Bentonite API Grade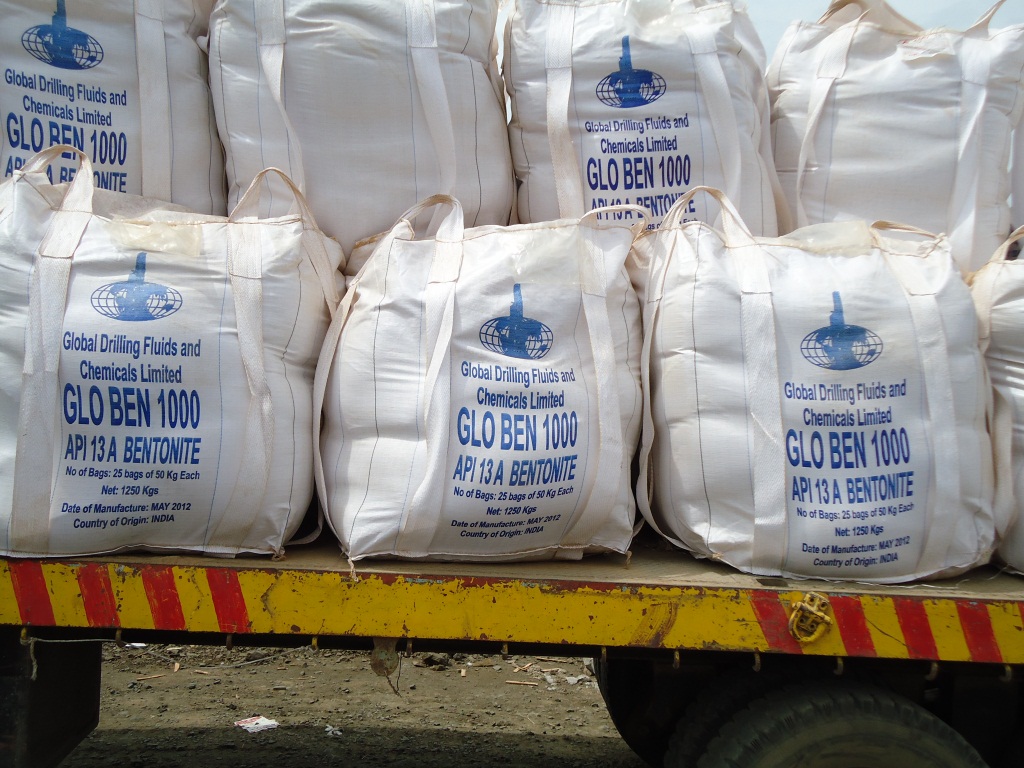 Global Drilling Fluids and Chemicals Limited at its manufacturing Facility in Gujarat, India manufactures Bentonite used as a Viscosifier and Weighing material for Drilling applications. GDFCL manufactures Sodium Bentonite as per API 13 A Section 9, Section 10, Section 11
The various Grades of Bentonite manufactured by us are:
GLO BEN 1000: Sodium Bentonite as per API 13 a Section 9 also Known as API Grade Drilling Bentonite
GLO BEN 2000: Sodium Bentonite as Per API13 A Section 11 also Known as OCMA Bentonite
GLO BEN 3000: High Yield Bentonite as per API 13 a Section 10 Also known as Wyoming Bentonite
Description:
Bentonite is a specially selected premium Grade Sodium Montomorillonite Bentonite. It is used as a Primary filter cake building Filtration Control agent in fresh water mud Systems. It is a High Yield Natural Sodium Bentonite as per API 13-A (Section 9 ) used as a Weighing agent and Viscosifier in the Oil Field applications.
Application:
Bentonite (Sodium Bentonite API 13 A Section 9) is Viscosifier and Filtration control agent for water based Mud Systems.GLO BEN 1000 manufactured by Global Drilling Fluids and Chemical Limited is used in drilling muds for controlling borehole stability. It is utilized in drilling muds to extract drill cuttings from the bit.
Advantages:
It helps improve hole cleaning capacities of drilling fluids.
It is effective as an filtering agent
It can form a thin filter cake with low permeability.
It promotes bore whole stability.
It can be added directly to fresh water or fresh water based drilling fluids.
Physical Properties:
| | |
| --- | --- |
| PROPERTIES | VALUE |
| Physical State | Free Flowing Powder |
| Moisture Content | Max 10% |
| Viscometer Dial reading at 600 r/min | Min 30 |
| Yield Point/Plastic Viscosity Ratio | Max 3 |
| Filtrate Volume | Max 15.0 Cm3 |
| Residue Greater than 75 Microns or 200 Mesh | Max 4.0 % |
Usage:
Bentonite manufactured by GDFCL is used as a Viscosifier and Fluid Loss Reducer and improves Filter cake Quality. Typical Concentrations range from 5-40 Lb/bbl (14 kg/m3-115 kg/m3).

Packaging:
Bentonite manufactured by GDFCL is packaged in 1.25 MT /1.0 MT Jumbo bags with inner Liner or 50 Kg/25 Kg or 100Lbs/50 Lbs HDPE sacks. If any customized packaging is required the same is also available.
Safety and Handling:
Bentonite manufactured by GDFCL must be handled as an Industrial chemical, wearing protective equipment and observing the precautions as mentioned in the MSDS.
International equivalents of our GLO BEN 1000
| | | | | |
| --- | --- | --- | --- | --- |
| GDFCL | MI SWACO | HALIBURTON | BAKER | SCOMI |
| GLO BEN 1000 | MI GEL | AQUAGEL/QUIK GEL | | DRILL GEL |
| | | | | |
| | | | | |
For Further Information on Bentonite and Information on Performance and Case Studies Please contact us at sales@globaldrilling.in