Spotting Fluid Weighted
Global Drilling Fluids and Chemicals Limited at its manufacturing Facility in Gujarat, India manufactures one of the most Popular Spotting Fluid (Pipe Freeing Agent) for the Oilfield Industry chemically Known as Spotting Fluid Weighted.
Description:
GLO STUCK-FREE W 1000 :Spotting Fluid (weighted) is a special blend of surface active agent, emulsifier, wetting agent and wall cake cracking material for making up of complete oil based spotting system. It cracks the filter cake allowing it to penetrate and reducing the force required to free the stuck pipe. It is easily mixed requiring no mixing equipments.
Application:
Spotting Fluid (weighted) manufactured by GDFCL dehydrates wall cake, allowing penetration of the spotting fluid and wetting of the drill string. Reduces the forces of cohesion between the pipe and cake, the pipe can be freed. It finds application in wells requiring a weighed Soak solution to free deferentially Stuck Pipes.
Advantages:
May be used in diesel oil, crude or low toxicity oil.
Does not require high shear and long mixing time.
Allows quick and effective operation in case of stuck pipe problems.
It can be weighted upto the desired drilling fluid density.
It may be incorporated into drilling fluid after pipe is free.
Packaging:
Spotting Fluid (weighted) manufactured by GDFCL is packed in 55Gal/208 Liter MS drums. Private Labeling and customized packaging is also available on request.
Safety and Handling:
Spotting Fluid (weighted) manufactured by GDFCL must be handled as a Industrial chemical, wearing protective equipment and observing the precautions as mentioned in the MSDS
International equivalents of our GLO SPOT W 1000
| | | | | |
| --- | --- | --- | --- | --- |
| GDFCL | MI SWACO | HALIBURTON | BAKER | SCOMI |
| GLO SPOT W 1000 | PIPELAX W | BARO-SPOT | MILFREE/BIO-SPOT | BREAK-FREE |
| | | | | |
| | | | | |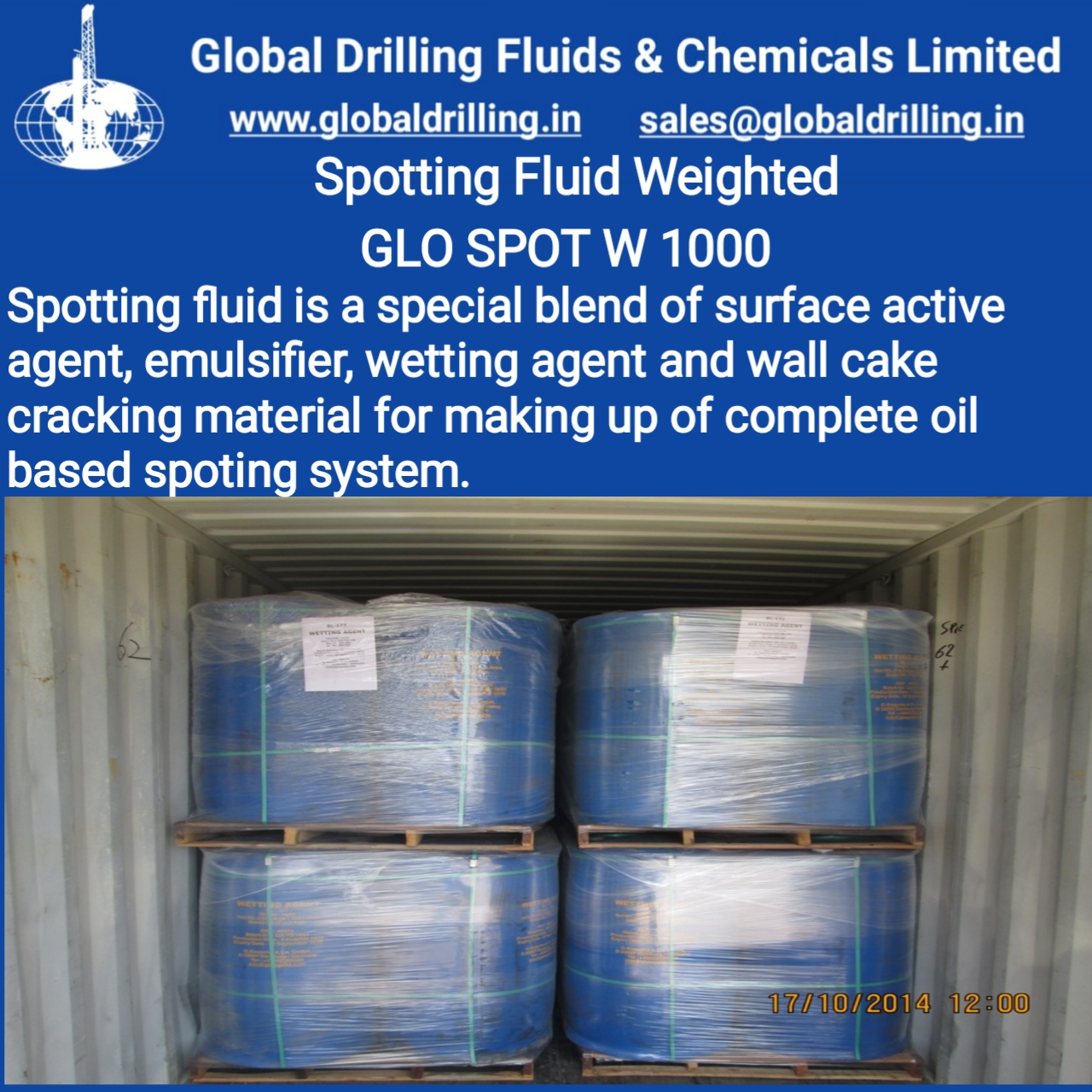 For Further Information on Spotting Fluid (weighted) and Information on Performance and Case Studies Please contact us at sales@globaldrilling.in