Bentonite
Global Drilling Fluids and chemicals limited at its manufacturing Facility in Gujarat Developes and Produces a range of high Perfromance Bentonite for Oil Drilling and HDD applications. Bentonite in its various forms is the most widely used Drilling Fluid in Oil Field Drilling applications used essentially to create viscosity in slurry with water and enhance the properties of the drilling fluids , provides Lubrication and also cools the Drilling tools , the special properties of Bentonite such as swelling and Absorption make ideal for protecting the formation from Invasion by drilling fluids and help in cutting removal.
GDFCL at its state of Art manufacturing and R&D Facilities manufactures a range of High Performance Drilling Bentonites such as API 13A Bentonite , High Yeild Bentonite , High Swelling Bentonite and Single Sack bentonite additive for HDD applications which are specialty formulated to provide Improved Rheological Properties .The grinding systems used by GDFCL ensure maximum Precision and economic efficiency for enhanced Drilling Capabilities
The Advantages of Using GLO BEN range of Specialized Bentonites manufactured by Global drilling fluids and Chemicals Limited.
Specially formulated to provide High Hydration and viscosities than other types of clays
Provides superior Filtration characteristics
Increases viscosity and reduces Fluids loss in water based Mud Systems
Superior Filter Cake quality in fresh water and Salt water mud systems
Helps to clean the hole cleaning capacities of Drilling fluids
Promotes borehole stability and reduces fluid Loss
GDFCL manufactures the complete range of Drilling Bentonite as per the API 13A specifications ( API 13 A section 9, API 13A section 10 and API 13 A section 11) and also we have a special Section of our production and R&D continuously working together to produce Specialized High performance Bentonites and High yield Bentonite to improve efficiency and Drilling Performance . the range of Specialized bentonites manufactured by Global Drilling Fluids and Chemicals Limited include
Enhanced High viscosity Bentonite
Bentonites for Reduced Fluid Loss
Bentonite with Shale Stabilization properties
Single sack Bentonites for Oil Well Drilling and HDD applications
Please write to us for details about the Specialized Bentonite and bentonite Systems Produced by GDFCL at sales@globaldrilling.in
The range of our manufactured Bentonites Includes
| | |
| --- | --- |
| GLO BEN 1000 | Bentonite API 13 A Section 9 |
| GLO BEN 2000 | Bentonite API 13 A Section 11 (OCMA Bentonite) |
| GLO BEN 3000 | Bentonite API 13 A Section 10 |
| GLO BEN HY | High yield Bentonite |
| GLO BEN EHY | Extra High yield Bentonite |
| GLO BEN FLC | Reduced Fluid Loss Bentonite |
| GLO BEN HV | High Viscocity Bentonite |
| GLO BEN EHV | Extra High Viscocity Bentonite |
| GLO BEN 5000 | Single sack Bentonite with Polymer for HDD Drilling |
Packaging and Shipment:
Bentonite range of Oil Drilling Bentonite Supplied By GDFCL are Packaged in 1.25 MT Jumbo Sacks , 1.0 MT Jumbo Sacks , 50 Kg Sacks , 25 Kg Sacks in both Multi-Layer Paper Bags and HDPE sacks and are available Ex Stock at each of our manufacturing facilities and Stock Points and are Shipped from Mundra Port Gujarat for worldwide Shipping. GDFCL has a History of Supply of Bentonite to over 35 Countries in all 5 continents for over 25 Years.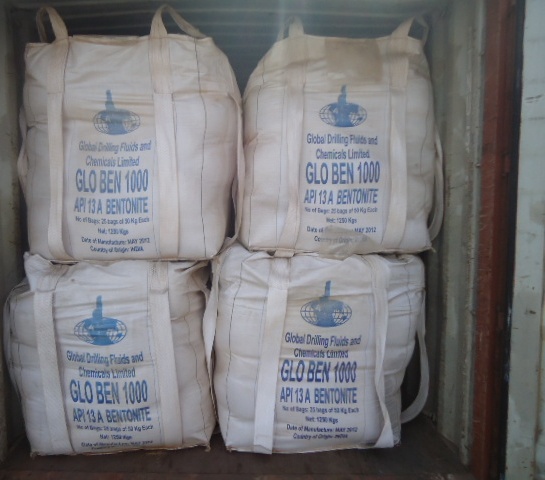 For more information on the Range of bentonite for Oil Well Drilling, Horizontal Drilling Bentonite, Bentonite for Geothermal Drilling and for Product data Sheets, MSDS sheets and Case Histories and Usage Please write to us at sales@globaldrilling.in