Carboxymethyl Cellulose | CMC
GDFCL manufactures the complete range of specialised Carboxymethyl cellululose (CMC) products which is one the most and widely used viscosifier and filtration control additive for the Oil and Gas Industry and is supplied by us in over 30 countries.
CMC manufactured by GDFCL is a high quality cellulose Polymer which acts as a fluid loss additive designed to reduce API filtration rate with minimum increase in viscosity in dispersed and no dispersed drilling fluids having various advantages –
Controls fluid loss Increases viscosity
Provides excellent thermal stability
Widely available and low cost polymer for fluid Loss control
Effective at providing filtration control in most water based drilling fluids.
Effective in low concentrations.
Non–Toxic and is not subjectedto bacterial fermentation and calcium contamination.
Can be used in most water based Fluid systems
Global Drilling fluids and chemicals Limited manufactures the complete range of High Performance Low Cost CMC for Oilfield applications. Our Range of CMC Includes: CMC HV, CMC LV CMC ULV and CMC UHV.CMC is manufactured by GDFCL are as per API 13 A Specifications.
Global Drilling Fluids and Chemicals ltd is the leading manufacturer of Cellulose based Viscosifiers and filtration control products in India. We manufacture the complete range of specialised Carboxyl Methyl Cellulose (CMC) products used in Drilling at our State of the art ISO 9001 certified manufacturing facility in Gujarat, where we are equipped with a full R&D lab, personnel and research team that continuously strive to improve our full range of CMC products.
Our range of Products Includes:
Request For Product Data Sheet
| | |
| --- | --- |
| GLO CMC HV | Carboxy Methyl Cellulose (High viscosity) |
| GLO CMC LV | Carboxy Methyl Cellulose (low viscosity) |
| GLO CMC ULV | Carboxy Methyl Cellulose (ultra low viscosity) |
| GLO CMC UHV | Carboxy Methyl Cellulose (ultra high viscosity) |
Carboxymethyl Cellulose (CMC) products manufactured by GDFCL are environmentally friendly and Non Toxic cellulosed based products which can be customized and manufactured according to various customer needs such as varying temperature, oil well requirements and specifications.
CMC manufactured by Global Drilling Fluids and Chemical Limited our supplied in internationally approved bags with Private Labelling and customization catering to all customer needs and requirements.GDFCL Stands Guarantee of Performance of all Products manufactured at our Manufacturing Facilities.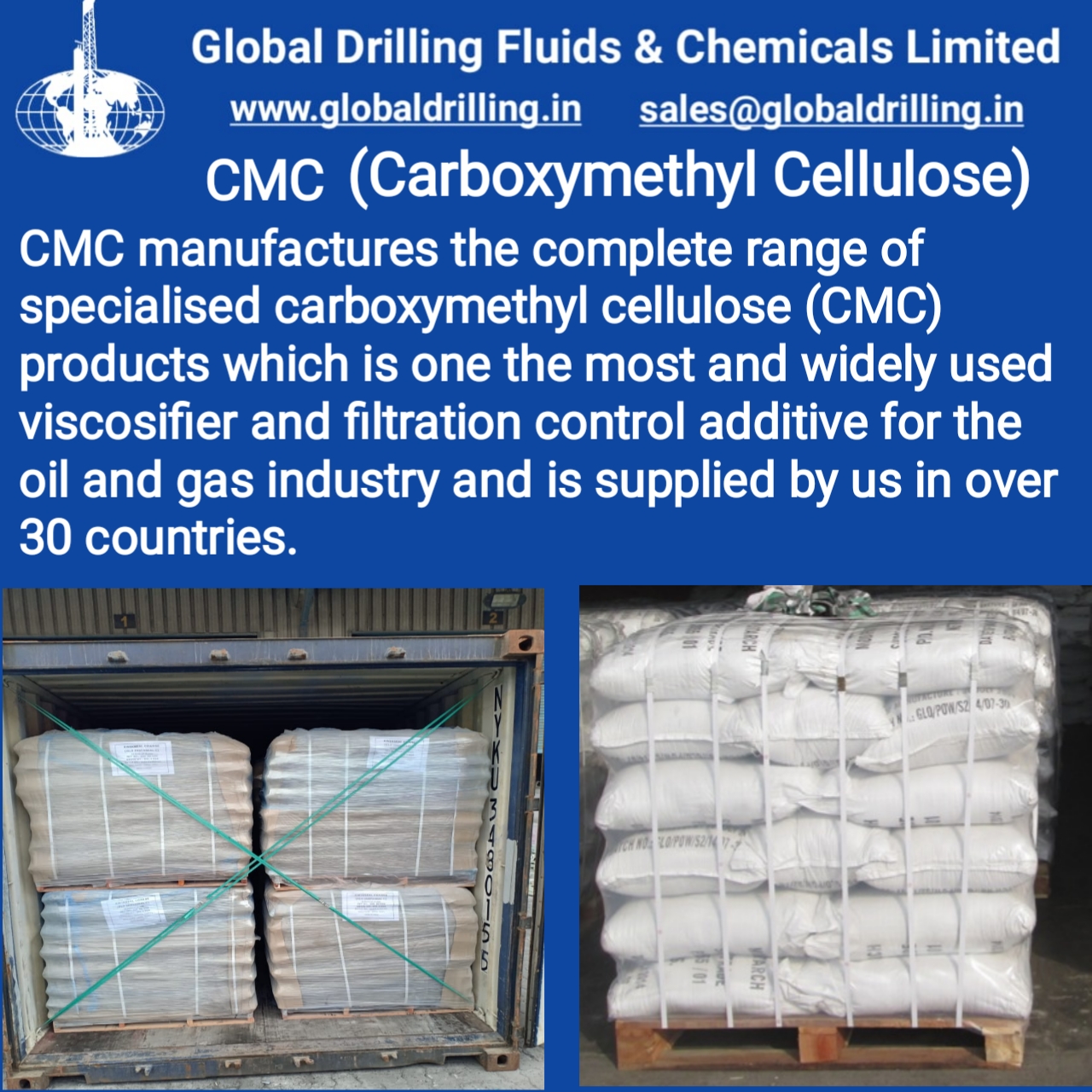 For more Information about our Range of CMC and Product Data Sheets please email us at Sales@globaldrilling.in