Geothermal Drilling Fluids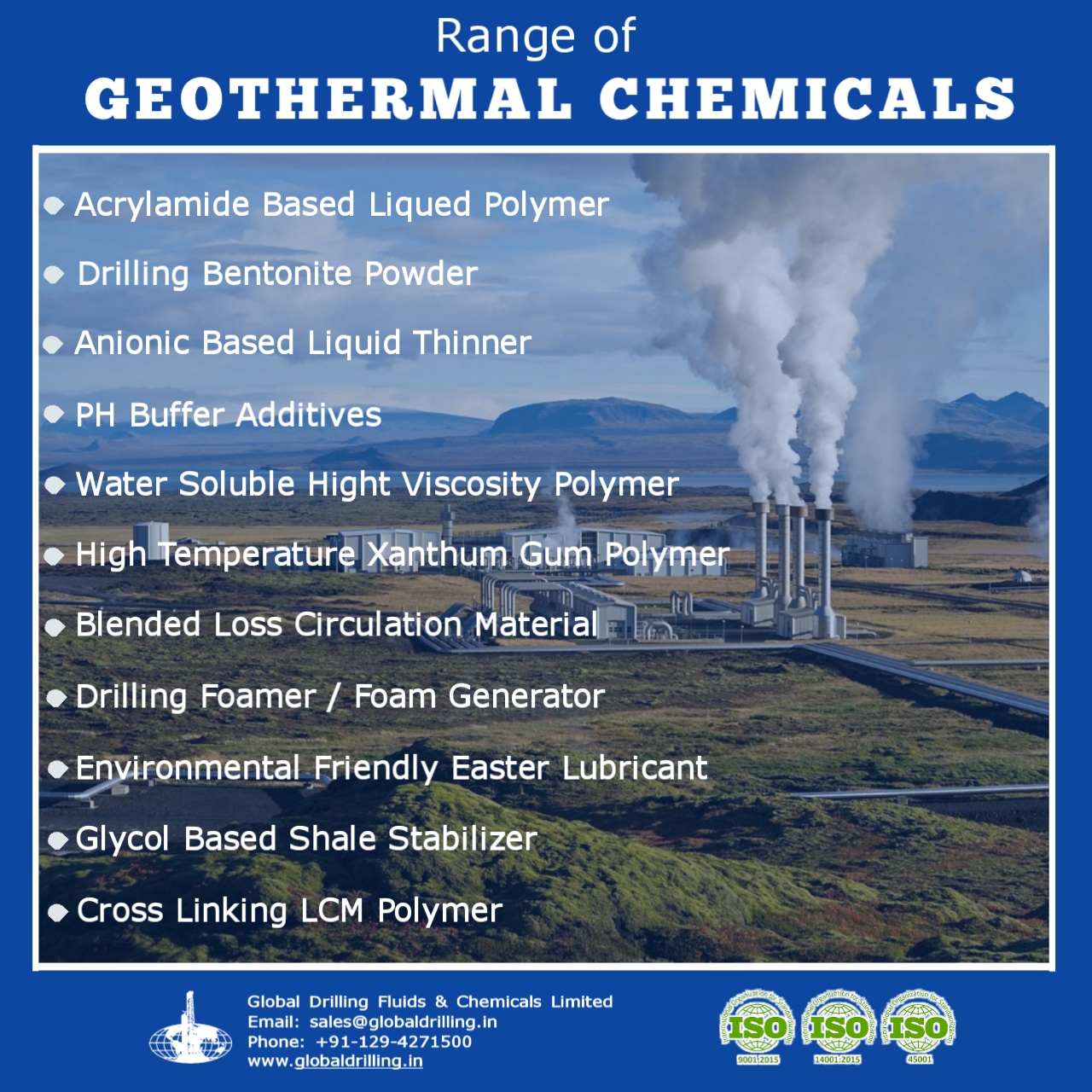 Geothermal Drilling Fluids Additives and Cementing Chemicals manufactured by GLOBAL DRILLING FLUIDS AND CHEMICALS LTD are a critical component for drilling its purpose is to maintain the stability of the wellbore and provide pressure, clean the borehole from cuttings and allow for cooling of the downhole environment and drilling tools.
GDFCL has a focused Group of R&D and manufacturing of Drilling Fluids , Drilling chemicals and Cementing Additives for Geothermal Drilling Applications to solve the most unique geothermal Drilling Problems making us the preferred supplier of Geothermal Drilling fluids additives and Cementing Chemicals and Additives.We provide a comprehensive line of borehole/wellboreStabilizers ,grouting chemicals for Geothermal Drilling . Drilling deeper, longer and faster ,with least Formation Damage and Loss of Drilling fluids and tool wear has been made possible by improvements in drilling technologies, including more efficient ,effective and environmental friendly drilling fluids being manufactured by us.
The range of Our Drilling Fluids and Mud chemicals and Cementing additives for Geothermal Drilling are:
High Performance Bentonite Mud Systems
Bentonite and Polymer Mud Systems and additives
Polymer Mud Systems and Polymer additives
Drilling Foam, Drilling Detergent and Additives for cutting Encapsulation
Drilling Lubricants for Torque and Drag Reduction and Increased ROP
High temperature Drilling Fluids for Extended Reach Drilling ERD
Loss Circulation Materials
Borehole Stabilizers and reservoir damage Control
Cleanup Chemicals and Drilling Fluids
Complete range of Drilling Cements and Cementing additives

Please find below a list of the specialty chemicals for Geothermal Drilling manufactured by us.
Request For Product Data Sheet