Mica Flakes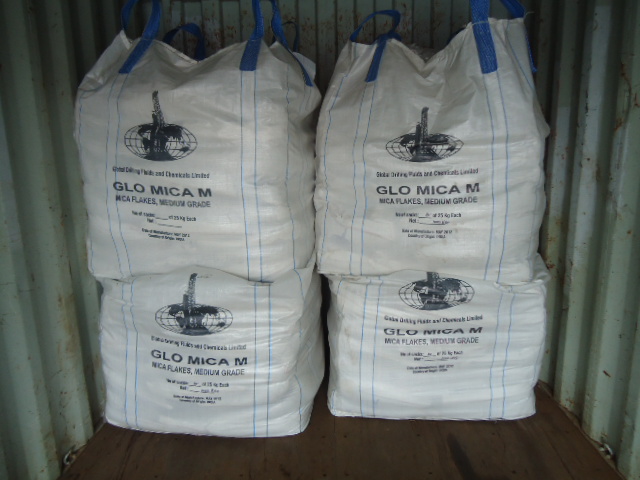 Description:
MICA is essentially naturally Occurring Muscovite Mica flakes seized in Fine Medium and Coarse grades essentially used in the Loss Circulation applications during Drilling Operations
Common Name: Mica flakes
Application:
MICA FLAKES can be used in water-based and oil based oil-well drillings operations as an Additive mud chemical to prevent loss of circulation and seepage. Mica is specially added to Seal-off the lost circulation zones. The platy structure of mica facilitates the overlapping of Particles to form a layer or wall and acts as a sealant that bridges the openings. The use of Mica helps to seal porous formations and contributes to regain circulation keeping the solids in suspension.
Advantages:
Effective Low cost LCM.
Does not adversely affect the properties of OBM or WBM.
Generally Inert Material with no reactions to Hydrocarbons, acids, Brines.
Properties:
Mineralogy

Muscovite Mica

Appearance

Flexible, non-adhesive, pearly flakes.

Specific Gravity

2.6-2.7

Density

550-700 kg/m3

pH (BS 3483)

7-8

Moisture @ 100oC

Less than 0.5%

Water Solubility (BS 1775)

Virtually insoluble

Reactivity/Toxicity

Non Toxic

GLO MICA C (Coarse )

Retention on 20 Mesh: 40-60 %

Passing thru 100 Mesh :5% Max

GLO MICA M (Medium)

Retention on 20 Mesh :15-30%Max

Passing thru 100 Mesh :10% Max

GLO MICA F (Fine)

Retention on 20 Mesh :2% Max

Passing thru 100 Mesh :10% Max
Packaging:
MICA is packed in 50 Kg/1.0 MT bags. Private Labeling and customized packaging is also available on request.
Safety and Handling:
MICA must be handled as a Industrial chemical, wearing protective equipment and Observing the precautions as mentioned in the MSDS
International equivalents of our GLO MICA F/M/C
| | | | | |
| --- | --- | --- | --- | --- |
| GDFCL | MI SWACO | HALLIBURTON | BAKER | SCOMI |
| GLO MICA F/M/C | MI-MICA | MICATEX | MIL- MICA | MICA |
| | | | | |
| | | | | |
Please do contact us for MICA PDS and MSDS.
For more Information about our Range of MICA Product Data Sheets please email us at sales@globaldrilling.in
For Our Complete Range of Loss Circulation Materials CLICK HERE