Oil Base Mud Drilling Fluid Additives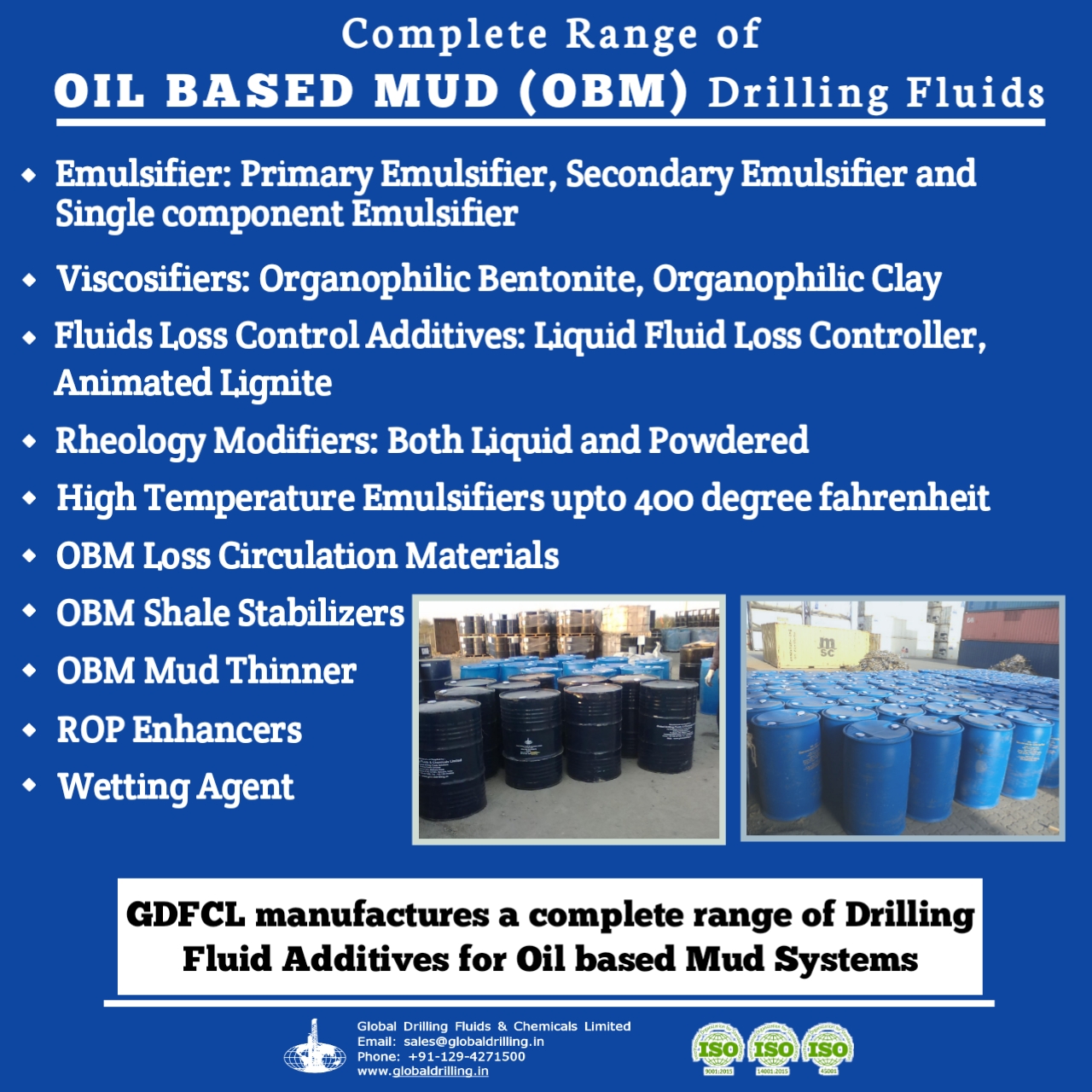 Global Drilling Fluids and Chemicals Limited is leading manufacturer of Oil Base Mud Additives. We manufacture the complete range of Oil Base Mud Drilling Fluids or Invert emulsion additives for both Low temperature high pressure applications and for enviornmentally sensitive region.
Our range of Oil Base Mud Additives Include
Oil Base Mud Primary Emulsifiers
Oil Base Mud Secondary Emulsifier and Wetting Agent
Oil Base Mud Shale Stabilizers and Shale Inhibitors
Oil Base Mud Thinners and Defloculant
Oil Base Mud Filtration Loss Control Additive
Oil Base Mud Viscosifiers and Filtration Control
Oil Base Mud Wetting Agents
Oil Base Mud Lubricants and Stuck Pipe Removers
Our research and specificially designed OBM and SOBM products and manufactured by using a range of different chemistries for the most stringent customers requirements.
Our Products are designed to be used with Oil base mud system like Diesel, Fuel Oil, Mineral Oil and High performance Synthetic oil systems.
Our range of Oil Base Mud Products:
Request For Product Data Sheet
EMULSIFIERS

Primary Emulsifier for Oil Base Mud (OBM)

Secondary Emulsifier for Oil Base Mud (OBM)

GLO EMUL 1000

Single component emulsifier function as a Primary and Secondary emulsifier and Wetting agent

GLO EMUL 1000 HT

Single component emulsifier function as a Primary and Secondary emulsifier and Wetting agent for high tempreature application

GLO EMUL 9000 HT

High performance single component emulsifier and wetting agent for HTHP

WETTING AGENTS

Wetting agent for oil base muds

GLO WET 3000

Premium wetting agent for Oil Base Mud Systems

RHEOLOGY MODIFIERS AND THINNERS

Rheology Modifier and Viscosifier

GLO THINN 1000

Oil base Mud Thinner and Dispersant

FLUID LOSS CONTROLLERS

GLO GILSOTROL 1000

Synthetic Gilsonite based fluid loss control Additive

GLO GILSOTROL LQ 1000

Liquid Gilsonite Fluid loss control Additive

GLO OBM FLC 1000

High performance Fluid loss control for HTHP

GLO ORGANO LIG 1000

Organophillic Lignite |Amine treated Lignite for Oil base Mud Systems

GLO ORGANO LIG 9000

High performance Fluid loss control and shale stabilizer

GLO SULFOTROL 1000:
High Performance Partially Oil Soluble Fluid Loss control additive

VISCOSIFIERS

GLO ORGANOBEN 1000

Dry processed organophilic bentonite

GLO ORGANOBEN 3000

Wet processed organophilic bentonite

GLO ORGANO CLAY 1000

Oil base Mud Viscosifier

GLO ORGANO CLAY 3000

Oil base Mud High Temperature Viscosifier

LUBRICANTS AND PIPE FREE ADDITIVES

GLO OBM LUBE 1000

Drilling Mud Lubricant for Oil Base Mud Systems

GLO OBM LUBE 3000

Oil base Mud Lubricant Premium

GLO OBM LUBE 5000 ENV

Environmentally friendly oil base mud lubricant

GLO OBM LUBE 9000

High Performance Oil base mud lubricant

GLO OBM STUCKFREE 1000

Liquid pipe free/spoting fluid for oil base mud system

GLO OBM STUCKFREE 4000

Powered pipe free/spotting fluid for oil base mud system

CLEAN UP CHEMICALS

GLO OBM SURF 1000

Concentrated blend of surfactants solvents and wetting agents

LOSS CIRCULATION MATERIAL

GLO OBM SEAL

Organophilic multi particle resin loss circulation material for oil base mud

GLO OBM FIBERLOCK

Treated fiberous LCM for Oil base mud

For more Information about our Range of GLO OBM ADDITIVES and Product Data Sheets please email us at Sales@globaldrilling.in