Pipe freeing Agent | Spotting Fluid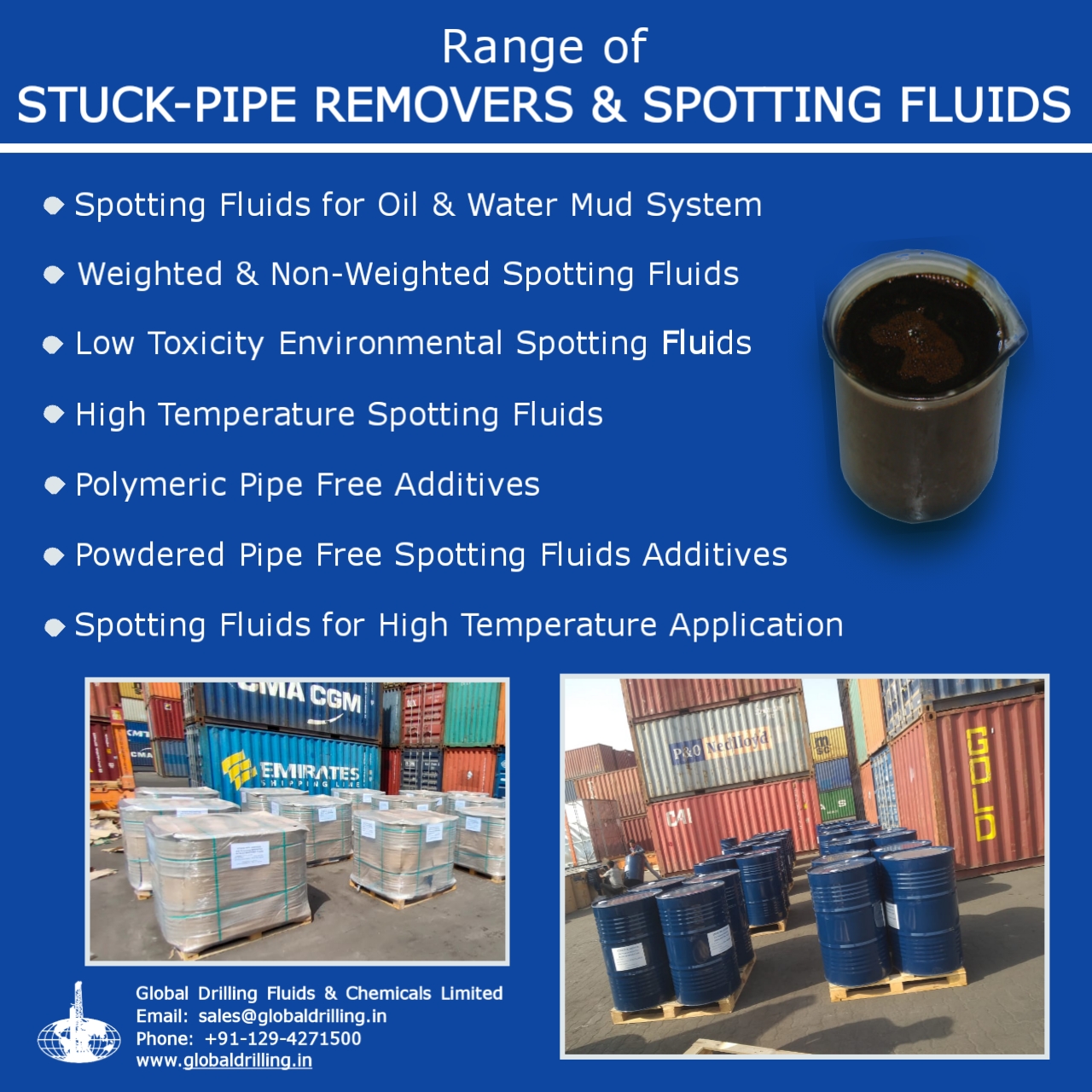 Global Drilling Fluids and Chemicals Limited India manufactures and Supplies a Range of Spotting Fluids or Pipe Free Agents or Stuck Breaker for Both water base Mud Systems and also for Oil base Muds.
Spotting Fluids manufactured by GDFCL are Specially Formulated Drilling Fluid Additives for both Low temperature and High Temperature and Pressure applications. Stuck Pipe or Differential Sticking is a Major Cost during drilling and wastes valuable Drilling time. Stuck Pipe and Differential Pressure Sticking (DPS) happens Due to the differential Pressure and the contact between the Mud cake and the Pipes. The procedure for freeing the stuck Pipe includes treating the region with the Spotting Fluid additives/ Stuck Breaker which removes the forces holding the pipes. GDFCL manufactures both Liquid and Powdered Stuck Breaker which can be added to the Drilling Fluids to reduces the Chances of Stuck Pipe and also once the Stuck Pipe has occurred these additives can be circulated to remove the stuck Pipe.
Global Drilling Fluids and Chemicals Limited manufacture a range of Different spotting Fluids for Oil well drilling which are chemical Additives to reduce Differential Sticking and Provide Wetting and dissolve the Mud Cake.
The Spotting fluids/ Stuck Breaker are manufactured are both in Single Drum Liquids and Solid Powders.
Ease Of Mixing in water based Drilling Fluids and Oil Base Drilling fluids provides wetting and Lubrication reduced Differential Sticking.
GLO STUCK-FREE range of Spotting fluids and Differential Stuck Pipe Removers are most preferred Spotting fluids used by the service companies or drilling companies for Differential stuck pipe removal.
GLO STUCK-FREE range or Spotting Fluids can be weighted up as required and are Nontoxic and Environmentally Friendly and
The wide variety of Our Spotting Fluids Include
| | |
| --- | --- |
| GLO STUCK-FREE NW 1000 | Non Weighted Spotting Fluid for Water base Mud Systems |
| GLO STUCK-FRE W 1000 | Weighted Spotting Fluids for water Base Mud Systems |
| GLO STUCK-FREE 3000 | High performance, High Temperature Spotting Fluid |
| GLO STUCK-FREE ENV 1000 | Environmentally friendly, Nontoxic Stuck pipe Remover |
| GLO STUCK-FREE OBM | Spotting Fluid and Differential stuck pipe remover for Oil Base Mud Systems |
| GLO STUCK-FREE 4000 | Powdered Single sack Spotting Fluid |
Request For Product Data Sheet
Please write to us at: sales@globaldrilling.in for Product data Sheets, MSDS and Case History of Our range of Spotting Fluids and Differential Stuck Pipe Removers.