Corrosion Inhibitor
Description:
Corrosion Inhibitor is a water-soluble filming amine corrosion inhibitor it effectively controls corrosion by dissolved oxygen. It can be used to treat water cut well flow lines, process equipment and oil pipe lines. It may also be used along with Drilling fluids and an effective Oxygen Scavenger and Biocide.
Application:
Corrosion Inhibitor is particularly suitable for pipelines application where it will partition predominantly into the water phase ensuring effective treatment of water setting out at low spots. It provides excellent corrosion inhibiting for the drill string down hole tools. It is effective in dispersed mud, KCL mud and salt water mud. It should be applied by continuous injection.
Common Name: CORROSION INHIBITOR: FILMING AMINE TYPE
Advantages:
It is a water-soluble film forming 100% organic corrosion inhibitor.
It has very low toxicity and is biodegradable.
It protects against H2S, organic acids and oxygen.
It is designed to control internal corrosion caused by dissolved oxygen in oil & gas production systems, water injection systems and pipelines
It Contains Biocide and also Prevents Bacterial Degradation
It Can be used for all Water based Drilling Systems in the Presence of Sodium and Calcium Chloride Brines
Physical Properties:
| | |
| --- | --- |
| Properties | Value |
| Appearance | Dark Clear Liquid |
| Specific Gravity at 20°C | 1.01-1.03 |
| Nature | Filming amine |
| PH Range | 9.0-10.0 |
| Viscosity | <60 cps |
| Active amine content | 35% min |
| Pour Point | < -5°C |
| Flash Point | > 800 C |
| Solubility | 100% soluble in water |
| Temperature Stability | >150ºC |
Packaging:
Corrosion Inhibitor manufactured by GDFCL is packed in 55 Gal Drums or 50kg/200ltr HDPE barrels/carboys. Private Labeling and customized packaging is also available on request.
Safety and Handling:
Corrosion Inhibitor manufactured by GDFCL must be handled as an Industrial chemical, wearing protective equipment and observing the precautions as mentioned in the MSDS.
International equivalents of our GLO INHIBITOR 1000
GDFCL

MI SWACO

Baroid

BAKER

SCOMI

GLO INHIBITOR 1000

SAFECOR

CONQOR

BARACOR

BARAFILM

HYDRAMINE/HYDRO FILM / COR MUSCLE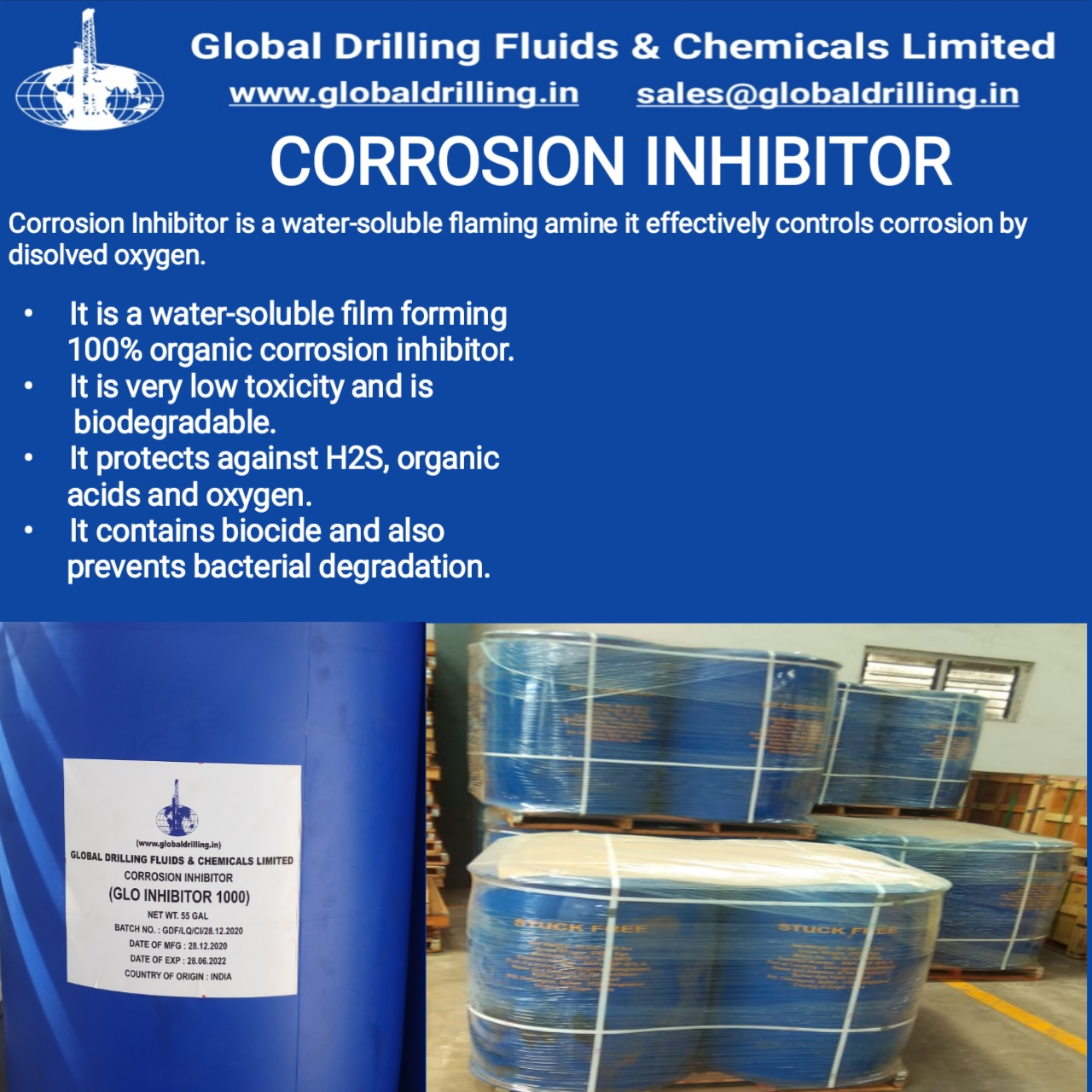 For Further Information on Corrosion Inhibitor and Information on Performance and Case Studies Please contact us at sales@globaldrilling.in