Viscosifier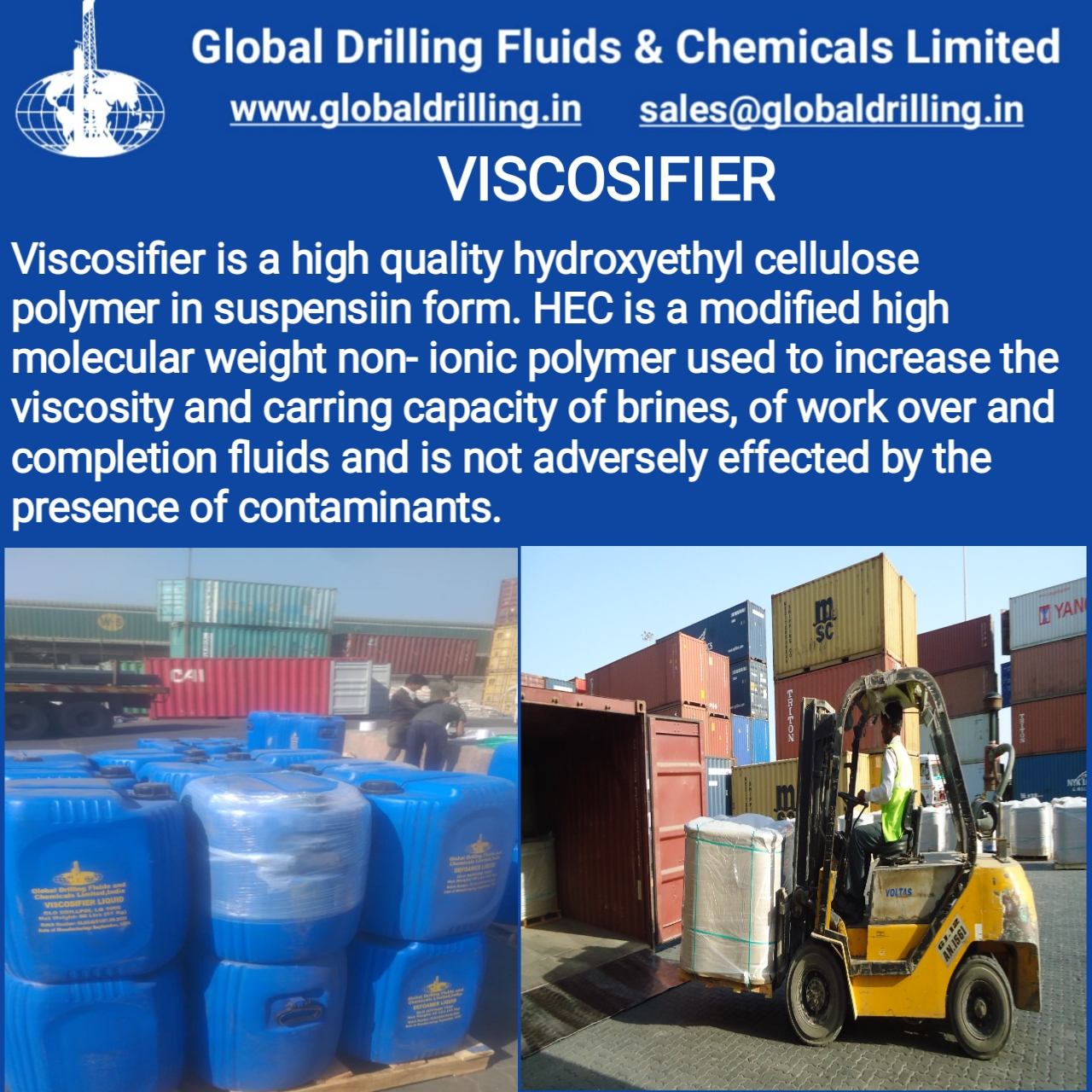 Global Drilling Fluids and Chemicals is one of the Leading manufacturers of Drilling viscosifiers for the Oil and Gas Industry for oil Well Drilling and Horizontal Drilling an geothermal applications .
Viscosifiers used for drilling are essential Drilling fluid additives and chemicals added to the water base mud or the Oil base Mud or synthetic base Mud systems to Increase the cutting carrying capacity of the Drilling fluid, to maintain the correct pressure and reduce the Fluid loss. Drilling Viscosifersalso improve the lubricity of the fluid and improved Suspension of solids and borehole stability in high temperature and also in high saline environments.
GDFCL produces a Range of High performance Drilling viscosifiers such as synthetic Polymer viscosifiers and Natural Polymers viscosifiers for high temperature and High pressure applications for both fresh water and Salt water applications . Our products are manufactured using different chemistries of varying Molecular weight and Iconicity to enhance the viscosifying capacity, cuttings encapsulation, Reduce fluid loss and to work at elevated temperatures. We also produce a range of viscosifier additives to enhance the properties of the bentonite.
Our manufactured Range of Viscosifiers for drilling applications are manufactured as per API 13 A specifications and also we manufacture a Range of Specially formulated Visocifiers for High viscosity , high temperature applications and Low cost Polymers . GDFCL also manufactures Vicoscifiers and Rheology Modifiers for Oil Base Muds and Synthetic Base Mud Systems.
The advantages of viscosifiers for Drilling manufactured by GDFCL
Designed to disperse evenly and develop viscosity rapidly.
Readily breakable polymer for non-damaging applications.
Viscosity develops without high shear and yields faster
Stable at temperatures up to 200°C (300°F).
Environmentally friendly
Readily Dispersible in Most Brine Systems
Functions as an inhibitor by coating or encapsulating formation & cutting in fresh water , salt water systems
It also restricts the interaction of water Hydratable & dispersible shale's.
Provides High viscosity in the drilling fluid which helps in better removal of cuttings from bore hole.
Controls fluid loss and increases viscosity
Resistant to ions and is effective over a wide ph range and high saline systems
Provides excellent thermal stability.
Improves quality of filter cake.
Unsusceptible to bacterial degradation.
Our range of Viscosifiers for Oilfield and Horizontal Drilling and Geothermal Applications
Request For Product Data Sheet
For more Information about our Range of Viscosifiers and For Product Data Sheets, MSDS and Case Histories please email us at Sales@globaldrilling.in